YEAR OF THE PIG CONTEST
updated April 10, 2007
One of our Club Sponsors, A Bit of Britain, did the drawing for us. The winners of the Pig palm charms are Sue Donilon and Ron Hanson! Congratulations!
The webpages with the pig pictures on them were:
http://www.theadambinderclub.com/abc_AdamsArtABEpcPig.htm
http://www.theadambinderclub.com/abc_AdamsArtHKRolyPolyCurly.htm
http://www.theadambinderclub.com/abc_AdamsArtABEEventPiecesPiggyBackIvory.htm
http://www.theadambinderclub.com/abc_AdamsArtHKSpecialEdHousePartyAB.htm
http://www.theadambinderclub.com/abc_AdamsArtABEGalleryMiniBronzepcPig.htm
http://www.theadambinderclub.com/abc_AdamsArtHKTwoByTwoBarneyBetty.htm
--------------------------------------------------------------------------------------------
Time for a contest! On the Chinese Calendar, this is the Year of the Pig! There are 6 Pig pictures hidden among the web pages of our Club website. Can you find them all? The prizes are Pig palm charms donated by our Club Sponsors!

Here are the Rules to this contest:

1. You must be a current member of the ABC to participate.

2. Each member may send in only one entry.

2. Search the pages of this website and locate the 6 hidden pig pictures. Write down each web address that has a pig picture.
For example:
http://www.theadambinderclub.com/abc_news.htm
http://www.theadambinderclub.com/index.htm

3. Once you have found all of the pictures, email your completed list to abcpresident

4. The contest begins now and ends at midnight on March, 31, 2007.
5. HINT: "Birds of a feather flock together and so do pigs and swine!"

Prizes:

There will be two prizes. A drawing will be done from among all correct entries for two winners. Each winner will receive a Pig Palm Charm! In the event that there are not two members who submit correct entries, a drawing for the remaining prizes will be done from among all remaining participants. A member can win only one prize.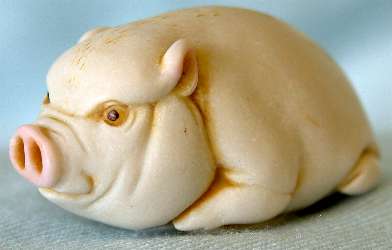 Pig Palm Charm
Image Courtesy of Adam Binder Editions
www.adambindereditions.com