IVORY LOVE BUG DRAWINGS

At our June 2003 ABC Rosemont Dinner Meeting, Adam surprised us by giving the Club 200 Ivory Love Bug palm charms. This variation of the Love Bug palm charm has an edition size of only 250! Every person who attended the dinner, 118 people, was given one. An additional 55 were offered at retail cost to Charter members of the Club who were unable to attend the Rosemont meeting.
The remainder of the ivory bugs were offered to new members of the Club in a series of random drawings done by our sponsors each month. The lucky winners of the drawings were able to purchase an Ivory Love Bug for the retail cost. In order to get these little gems into the hands of as many different collectors as possible, only members who had not already received an ivory bug were included in the drawings. A few ivory bugs were reserved as prizes for Club contests.
The winners of the Love Bug drawings were:
Cynthia Karr, Elizabeth Pearson, Pat Seibel, Janet Torkelson, Sue Donilon, Elizabeth Barnica, Cyndra Henry, Pat DuMond, Talli Ruksas, Barbara Beil, Miko Hulett, Bernard Torkelson, Pat Hedrick, Sharon Bufton, Nicki Jones, Barb Dickinson, Candace Airhart, Gabriele Suhrada, Andrea Perry, Andrius Gerulis, Karen Leamon. Guy Deschenes, Laurie Falcon, Lori Nowak, Jeanne Fredericks, Andree Gilmore.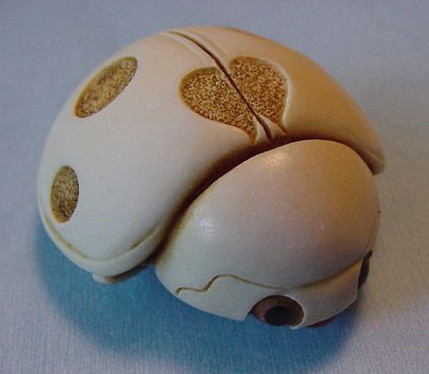 Ivory Love Bug
Edition size 250
www.adambindereditions.com